As we are heading towards warmer weather, lots of people are getting out and dusting off the barbecue, and so I thought, what better to share than a beef burger recipe. I love making these burgers as they are gluten-free and so easy. You can also mix up the beef burger recipe by adding in all sorts of extra bits like garlic, chilli, tomato puree. I will be back soon with a round up of beef burger recipe variations!
RECIPE: beef burgers
makes: 6 burgers
INGREDIENTS: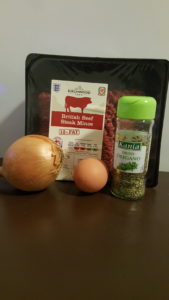 500g minced beef
1 onion, chopped
1 egg, beaten
Teaspoon of oregano
METHOD:
Start by chopping the onion up finely. Then add the onion, egg and minced beef to a large bowl with the oregano. Mix it up well with your hands so that it all gets merged together.
Divide the mix equally into 6 portions and form small burger patties with your hands by first making into balls and then squashing gently. Let them sit in the fridge for an hour to set if you are going to barbecue them. You can also grill them, oven them or fry them.
Cook on the barbecue for about 5-6 minutes on each side. (Or as you like them! As always, check they are cooked before eating, every barbecue, oven and grill is different)
Serve! I like them with gherkins and fried onions.
Let me know if you make these beef burgers, I'd love to hear from you!
Related posts: