For a long time I really wanted to make my own quilt. I thought it would be too complicated and too expensive so I left it. After a while I was reading some blog posts from one of my favourite bloggers Frugal Queen and she uses scraps of fabric. So I set about finding old bits of fabric and cutting up a storm! This quilt below is made from old tops and bedding with the backing a cut up duvet cover. The only thing I had to buy for this was the wadding. I stuck with simple 5 inch squares. I must confess that I have only just finished this quilt despite starting it in April 2014!! The binding made my eyes cross terribly but I have worked it out now! I love this quilt and it has inspired me to make some more.
This time I have bought some fabric through Instagram. Instagram?! I hear you cry! Well, I follow a lot of crafty people on Instagram and people are always having clear-outs or sales of bits and pieces, I get all sorts at good prices. I have even entered into a scrap swap with someone I follow! Dig out old clothes, old shirts and bedding, they will make fab quilts.
First of all you need to cut out all your pieces. I am going for a simple 5 inch square pattern again but straight across rather than diagonal. I use a rotary cutter and a mat but you could use scissors if you were to mark out the measurements. I have been going for 120 squares to make my quilts, I quite like this size.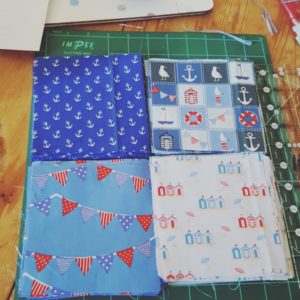 This one is going to be a seaside-themed quilt. The next thing to do is to work out your placement. I ended up cutting out some white squares as well for this.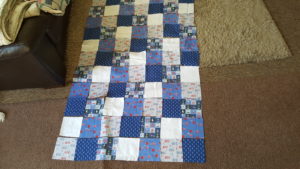 Next thing to do is to sew it. You can sew them by hand but I use a sewing machine as it is quicker. Sew one row or column at a time. I'm not sure what the rules are but I do it a row at a time starting from left to right, sew one at a time. Then when I have got 2 rows I sew those together and so on (or sew on!!) This one is still a work in progress so I will share some more piccies and also what I will do next when I get to the finished top.
I have also got a Christmas quilt on the go and will share this one later too.