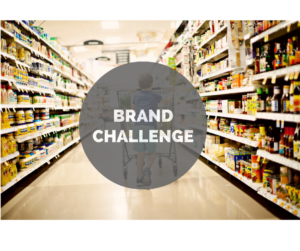 Are you someone that only buys branded items when you go food shopping? One sure-fire way of reducing your food bill is to take the Brand Challenge. Some say that you can cut a whopping 30% off your total bill. So if you normally spend £30 a week on your shopping, you can cut it down to £20. Imagine that, a huge saving of £520 a year!
The way that it works is instead of always buying a named brand of product, try the next level down. Most supermarkets have a named brand, their 'Finest' range, their ordinary range and then their 'basics' range. It is up to you how far you want to go with it. Some of the 'basics' range is just as good as named brand stuff and you often can't tell the difference. There are lots of reports online about the basics/own brand ranges being made in the same factories at the same time as named-brand items. Interesting stuff!
Some things I would definitely recommend are buying tins of beans like chickpeas, lentils, kidney beans from a basics range or somewhere like Lidl or Aldi. Cleaning products are another great place to step down a range or two. Shampoos and shower gels. If you have a B&M Bargains near you, that is a great place to get cheaper items. I sadly don't but when I was up visiting relatives in Newcastle I saw many great items for a fraction of the cost.
Let me know how you get on, come and find me, here, over on Facebook.
I look forward to seeing how you get on!
Related posts: