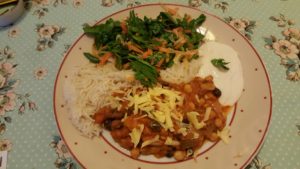 This is one of my favourite recipes and is so versatile in that you can have it with a jacket potato, with rice, with nachos, in tortilla wraps or tacos. You can also cook it on the hob or in a slow cooker.
Recipe: Three Bean Chilli
Serves: 4-6
INGREDIENTs
2 onions, chopped
2 peppers, any colour, chopped
6 mushrooms, chopped
2 cloves of garlic, minced
2 tins of chopped tomatoes
3 tins of beans- baked beans, red kidney beans and 1 other, I have used chickpeas here but you can use butter beans, cannellini beans or black beans
Chilli- to taste, I like it spicy so use 1-2 teaspoons of Lazy Chilli
Method
As usual this is a chop it all up and chuck it all in jobby! It really is that simple. Give it a good stir and then cook on low for about 8 hours. I have put it on in the morning and then left it until I got home from work and it was absolutely fine.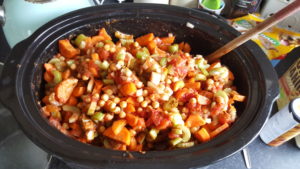 You can cook it on the hob if you don't have a slow cooker, perhaps about 45 minutes, keeping an eye on it so it doesn't catch.
Here is is served with nachos and guacamole. 
  Let me know if you make this, it is one of my favourite dinners.
Do you like chilli? Are you a mild sort of person or do you like it to blow your head off? 
Related posts: