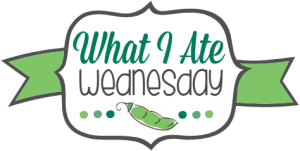 Happy Wednesday! What a glorious day it has been here by the sea. Gorgeous!
I thought I would share a day of eats with you.
The day started off with a bowl of overnight oats. I make these the night before by putting oats, blueberries and almond milk in a bowl and then popping in the fridge. Such a time saver in the morning!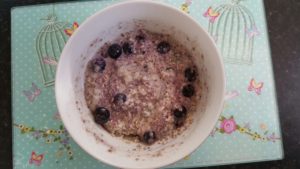 Lunch was roasted vegetables (courgette, peppers, aubergine, onions) and salad (spinach and tomatoes) with sweet potato falafel bites from Tesco. My snack was chopped apple with peanut butter. I love this lunch box! Even better that it was £1 from Poundland! We have got 2 and we use them loads. 
After work I decided to do some pottering in the garden and I made myself an iced decaf coffee with almond milk. It was delicious. I pottered in the garden until 8pm! I cannot wait to show you what I am up to.
Dinner was an easy 'ready meal' of 3 bean chilli from the freezer. I love having yummy dinners in the freezer. It takes no time or effort at all to make extra potions yet saves so much time in the week.
Mr Penny-Wise made a salad to go with it made of shredded spinach leaves, grated carrot, sauerkraut and pumpkin seeds topped with a dressing made of cumin, olive oil and a pinch of salt.
We had the salad with the 3 bean chilli, rice, Violife 'cheese' and plain soya yoghurt.
For an evening snack I had a Nakd bar. These are normally a bit pricey so we don't always have them in but they had them in Asda the other day on clearance for 18p each! Bargain!
So there you have it, a day of my eats!
What are your favourite foods? What did you have to eat today?
Related posts: