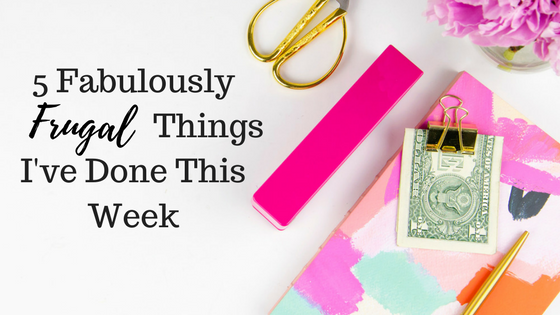 Welcome to  Five Fabulously Frugal Things I've Done This Week! This is part of a wonderful link-up of blogs and pictures full of lots of frugal ideas. You can also find the hash tag #5frugalthings over on Instagram.
I've spent hardly anything these last 2 weeks! That's been a mixture of being a hermit and cracking on with lots of work!
Sometimes I won't always have 5 frugal things but I will share what I have been doing regardless.
This week my fabulously frugal things are:
Taking 2 days of annual leave this week meaning I didn't have to pay for train fare this week. That went straight into a savings pot.
Researching how to do our trip to France this summer. We're going to drive and take a ferry and stop off at a couple of places before a wedding and then do the same on the return. So we've been looking at different days and times for ferry crossings and of course seeing if we can get some cashback! We haven't finalised the trip yet but hope to have saved a few pounds.
Being a hermit this week means I haven't been tempted to buy anything while out and about. Bit of a bonus!
I did however see a ticket for an event I want to attend in February so managed to get a £20 discount on that and paid for it out of my 'fun spends' savings pot. The pot that is there for exactly things like this!
I'd love to know what you've been up to this week. 
I'm linking up with Cass, Emma and Becky in this week's 'Five Fabulously Frugal things I've done this week' linky.
Related posts: