I work with a lovely, lovely lady and she makes all sorts of fantastic foodie things. I was chatting to her the other day about making mince pies and she told me all about this pastry recipe. I love it when people have recipes they know and love, and even more so when they can recite the recipe off the top of their head!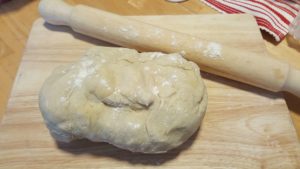 I was a little bit dubious about this one as it doesn't sound like your normal pastry recipe but I went ahead and made it. Massive thumbs up from Mr P! I used the pastry to make mince pies but am also going to use it for other things too. I shall be sharing those recipes soon! I am also working on a gluten-free version, a dairy-free version and also a gluten-free and dairy-free version.
recipe: sour cream pastry
ingredients:
125ml

 sour cream

250g

 plain flour
200g 

chilled unsalted butter
method:
The thing I love about this is the ease with which you can make it. If you have a food processor, pop the flour and chopped butter into the processor and pulse until it makes a mixture resembling breadcrumbs. If you don't have a food processor, then using the rubbing-in method with your finger tips until it resembles breadcrumbs. Then once you have a breadcrumb mixture, add the sour cream and mix until it all comes together in a ball. I normally refrigerate for about 20 minutes at this point to firm it up. Then use the pastry to make your goodies! You can also freeze pastry until you need it.
Related posts: