Do you want or need to be making money in May?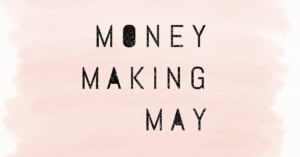 Wowzers, it's the 1st of May already!! That has come round so quick. Loving the lighter mornings and evenings though.
When we returned from our holiday we decided to set ourselves a little challenge of saving some money. I've got some exciting plans coming up soon and it'll be good to have a lump of cash in the bank. We have decided on £8000 by the end of August.
Now to do this, as well as saving money we also need to be making money. This is where Money Making May is going to come in. When you have got no way of increasing your existing income, the time comes to look at other ways of bringing in some extra cash.
I will be sharing with you my ways of making money on top of what you've got coming in. I'm going to share a list with you now and then I will be following up with an explanation post of each way I am making money.
My ideas:
Selling things on eBay
Selling books on Amazon
Mystery shopping
Surveys
Cashback sites
Scanning receipts
Car boot sales
Selling apps like Ziffit, Zapper, We Buy Books.
Check me out on Instagram to keep up to date!
Are you trying to make some extra money? Let me know what you are up to and any tips!
Related posts: