It's that time of the week again, Menu Planning Monday!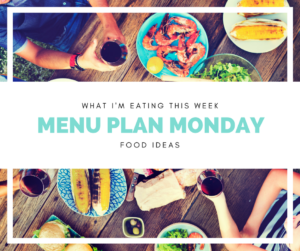 This is what I have got planned for dinners this week…
Sunday- Roast dinner (again!)
Monday – Leftover roast dinner
Tuesday- Sausages, mashed potato, peas and gravy
Wednesday- Chilli con carne and rice (from the freezer as cooked in batch last week)
Thursday- Pasta and tomato sauce
Friday- Away
Saturday- Away
Breakfasts are variations of porridge. Lunches are soups, jacket potatoes or leftovers
We've got a bit of a busy week this week so we've gone for fairly easy dinners that don't need much cooking.
WHAT ARE YOU EATING THIS WEEK? I'D LOVE TO KNOW!
Check out the archives here for more ideas.
Related posts: