Here is the recipe for the veggie curry as promised…
Recipe: Slow cooker veggie curry
Serves: 4-6
Ingredients
2 tins of chopped tomatoes
1 tablespoon of curry powder (mild, medium or hot- whatever tickles your tastebuds!)
5 sticks of celery, chopped
3 carrots, peeled and chopped
Tin of chickpeas
1 onion, chopped
Method
Chop it all up and chuck it in! It really is that simple. Give it a good stir and then cook on low for about 8 hours. I have put it on in the morning and then left it until I got home from work and it was absolutely fine.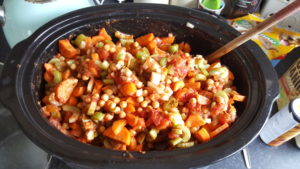 You can cook it on the hob if you don't have a slow cooker, perhaps about 45 minutes, keeping an eye on it so it doesn't catch.
I serve with rice, spinach, yoghurt, mango chutney and poppadoms but you can serve it with whatever you like!
Leftovers are delicious warmed up with a tin of baked beans and some aubergine pickle stirred through. The ultimate cheap and easy dinner. I often double or triple the recipe so that I can portion it up for the freezer. So handy for those nights where we get home late and don't want to cook from scratch.
Let me know if you make this, it is one of my favourite dinners.
Do you like curry? What kind of curry do you like? 
Related posts: