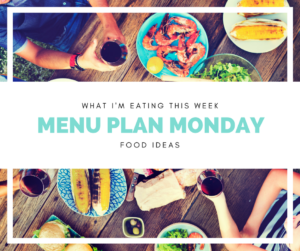 It's that time of the week again!
This is what I have got planned for dinners this week…
Sunday- Chicken and vegetable scramble
Monday – Pork strips, salad and cauliflower
Tuesday- Steaks, green beans, grilled vegetables and potatoes
Wednesday- Chicken Jalfrezi and rice
Thursday- Chicken, tomato and basil bake with vegetables
Friday- Chilli-con-carne and rice
Saturday- Homemade burgers, chips and salad
Breakfasts are variations of eggs, pancakes and veggies. Lunches are whatever's in or leftovers due to half-term.
What are you eating this week? I'd love to know!
Related posts: