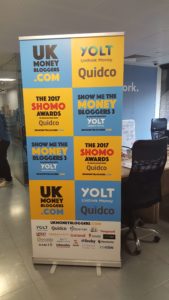 I was really lucky to have had the opportunity to head to London on Saturday 23rd September and attend the 3rd UK Money Blogger's Conference, The SHOMOs. Because I blog about money in one form or another I am privileged enough to be a part of this lovely group.
The day didn't start too brilliantly as the train I was going to get was cancelled! Cue a bit of stress as I knew I was then going to be tight for time to get there for the start.
I did get there just in time for Andy from Be Clever With Your Cash's  welcome. Andy organises this event, and boy does he organise it well!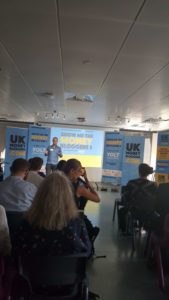 This was followed by a great talk from Yolt on the theme of Unthinking Money.
Throughout the day I got to listen to some fab people discuss a range of topics covering saving, blogging, Facebook groups, keeping safe online and fantastic e-tools to use.
This was all in addition to taking part in smaller breakout groups. The second part of the day was just as much fun with a blind fizz tasting, a chance to talk to some money brands and of course the AWARDS!!
There were so many categories and so many well-deserving winners. All of the winners and runners up can be found here.
I had such a fantastic day at this event and am so glad that I decided to go. I feel more confident in attending other events now too. I learned a tremendous amount and got to meet lots of fantastic new people. My to-do list is now huge! It does mean that I have got my blogging mojo back and I have lots to share with you. Keep your eyes peeled for an update soon on where I have been and what I've been up to!
Related posts: